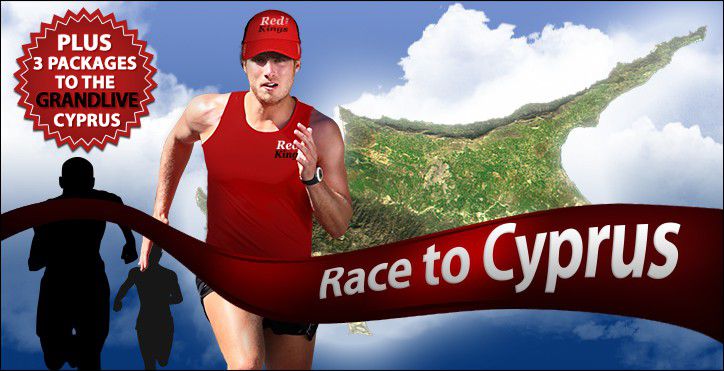 Race to Cyprus
Our €12,000 Pooled Race for January just got even better !
Now also win a €3,000 Package to the GrandLive Cyprus as well as cash from the Races below
Just earn over 6000 RedKings player points (Platinum VIP level) in January and play in a Freeroll with one €3,000 package for every 10 players
Cyprus Package Freeroll: 06.02.2014 (19:00 CET)
What you get:
i)

Two €6000 races lasting for 15 / 16 days in January (first prize 900 per Race)

ii)

All VIP Cashback – up to 40%

iii)

Any Bonus you may be eligible for (includes first deposit bonus)

iv)

Entry to our January Daily Races based on your daily performance

v)

Entry to a Freeroll to win €3000 package to play live in Cyprus with hotel and hospitality for 2 people
It's a great Deal!
Please note: For a Cyprus Freeroll ticket you must play in one race or both and your total points for January add up to a min of 6000 RedKings player points
---Zasady i Warunki---
RedKings Live Tournament - Regulamin
Zasady i Warunki
- The Campaign period is between 01.01.2014 and 31.01.2014
- The Cyprus package to be won is worth €3000. It comprises of one buy-in (€1500) plus Hotel and Hospitality for 2 people sharing (€1000) plus €500 towards travel.
- Maximum number of €3,000 packages we are giving away is three
Jeden dzień to 01:00:00 – 00:59:59 GMT.
This means that the first day you can enter the challenge is the 01.01.2014 and the last date to enter the challenge is 31.01.2014
Kolaboracja i dzielenie się informacjami o koncie jest całkowicie zabronione i może doprowadzić do zamknięcia konta gracza oraz konfiskatę wszystkich środków dostępnych na koncie gracza.
Konto RedKings jest kontem personalnym i powinno być używane tylko przez osobę, której dane są zarejestrowane na tym koncie Złamanie tej zasady może skutkować z natychmiastową dyskwalifikacją z tej oferty.
RedKings zastrzega sobie prawo do odmowy wypłaty nagrody jeśli zostaną ujawione fakty, że gracz stosował colluding/soft playing aby uzbierać hands.
Nagrody z wyścigu mogą być łączone z możliwymi bonusami, "Valueback" lub innymi promocjami.
W przypadku rozbierzności pomiędzy angielską wersją tych zasdad i warunków a wersją przetłumaczoną na jakikolwiek inny język, wersja angielska będzie obowiązująca.
Obowiązują Standardowe Zasady i Warunki Redkings.
Możesz teraz otrzymać swoje wygrane z wyścigów logując się do My Account I klikając na Account Summary. Kliknij następnie "Claim prize", a Twoje wygrane zostaną dodane do Twojego konta automatycznie. Po nagrody należy się zwrócić w ciągu 7 dni od dnia dodania nagrody. Po tym czasie wszystkie nie roszczone nagrody przepadną.
RedKings zastrzega sobie prawo do zarejestrowania w promocji pewnych graczy w zależności od ich wcześniejszej aktywności.