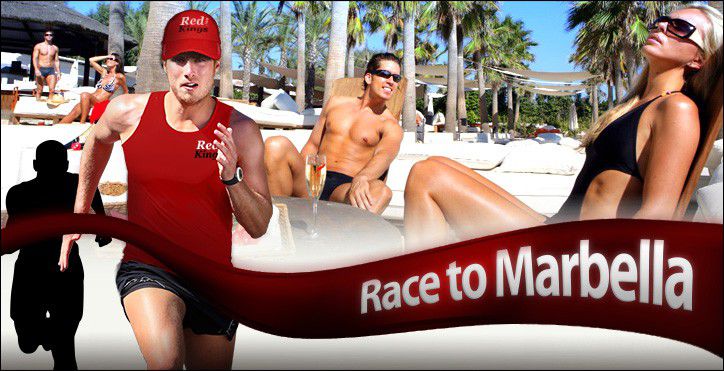 Race to Marbella
Win a €3,000 Package to the GrandLive Marbella as well as cash from the Races below
Just earn over 6000 RedKings player points between 15 February and 26 March 2014 and play in a Freeroll with one €3,000 package for every 10 players
What you get:
i)

Three €6000 races lasting for 14/ 15 / 16 days in February and March (first prize 900 per Race)

ii)

All VIP Cashback – up to 40%

iii)

Any Bonus you may be eligible for (includes first deposit bonus)

iv)

Entry to our February Daily Races based on your daily performance

v)

Entry to a Freeroll to win €3000 package to play live in Marbella with hotel and hospitality for 2 people
It's a great Deal!
Please note: For a Marbella Freeroll ticket you must play in one race or all and your total points between 15th February and 26th March add up to a min of 6000 RedKings player points
The Race to Marbella freeroll will be played Thursday 27th March at 19.30 CET
---Conditions générales---
Termes Et Conditions De Tournoi Live RedKings
Conditions générales
- The Campaign period is between 15.02.2014 and 26.03.2014
- The Marbella package to be won is worth €3000. It comprises of one buy-in (€1500) plus Hotel and Hospitality for 2 people sharing (€1000) plus €500 towards travel.
- Maximum number of €3,000 packages we are giving away is three
Un jour est 01h00:00 – 00h59:59 GMT
This means that the first day you can enter the challenge is the 15.02.2014 and the last date to enter the challenge is 26.03.2014
La collaboration et le partage de compte est strictement interdit et peut amener à une fermeture de compte et à une confiscation de tout gain sur le compte.
Un compte RedKings est personnel et ne doit être utilisé que par la personne dont les coordonnées correspondent à celles enregistrées sur le compte. Le non-respect de ceci pourra entrainer une disqualification immédiate de cette promotion.
RedKings se réserve le droit de refuser le payement à tout joueur s'avérant comploter/jouer avec un logiciel pour générer des mains.
Les prix des races peuvent être combinés avec des bonus, valueback et d'autres promotions possibles.
En cas de conflit ou de désaccord entre la version en langue Anglaise des termes et conditions et la version traduite dans une autre langue, la version en langue Anglaise prédominera.
Les termes et conditions standard de RedKings sont appliqués.
Vous pouvez à présent recevoir vos gains de Course en vous connectant à Mon Compte et en allant sur la page Résumé de Compte. Cliquez juste sur le bouton Réclamer un Prix et vos gains seront ajoutés automatiquement à la balance de votre Compte. Tous les prix doivent être réclamés dans les 7 jours à partir de la date de réception du prix. Passé ce délai, tout gain non réclamé sera perdu.
RedKings se réserve le droit d'inscrire certain joueur à cette promotion en fonction de leur activité précédente.