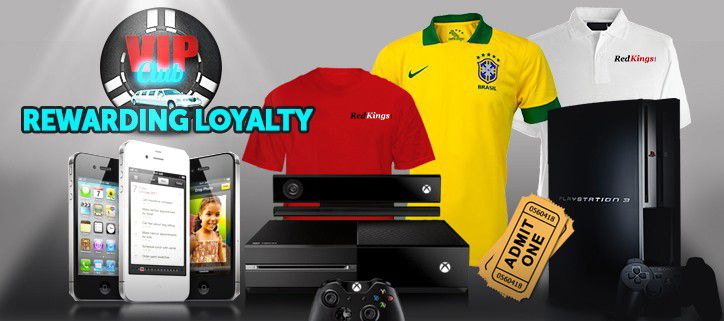 The RedKings VIP Shop Chase
Its time to play poker for the Summer VIP Shop Giveaway!
ALL PRIZES ARE ON TOP OF RACES, BONUSES, CASHBACK AND OTHER PROMOTIONS
Earn player points during May - collect the requirement and get the prize!
| | | |
| --- | --- | --- |
| 58500 Puntos de Jugador | | Xbox One Game console |
| 36000 Puntos de Jugador | | Apple iPhone 4 8GB |
| 27000 Puntos de Jugador | | Sony Playstation 3 12 GB |
| 19000 Puntos de Jugador | | €212 Online Final tournament ticket |
| 11500 Puntos de Jugador | | Football Shirt |
| 5400 Puntos de Jugador | | RedKings Polo Shirt |
| 2700 Puntos de Jugador | | RedKings T-Shirt |
REDKINGS CLEARANCE LEADERBOARD
TERMS AND CONDITIONS
RedKings Warehouse Clearance Poker Chase is between 1 – 31 May 2014.
One day is 01.00.00 GMT 00.59.59 GMT
All Prizes are suggest to availability and if possible to deliver to your country. If delivery is not possible or you choose to change your prize to cash we will pay 50% of its value.
RedKings reserva el derecho de cambiar los términos y condiciones en cualquier momento para ésta promoción y cualquier decisión hecha por RedKings es decisiva.
Una Cuenta RedKings es personal y sólo podrá ser utilizada por la persona que coincida con los datos registrados en la cuenta. Desobediencia a ésta regla resultaría en descalificación inmediata de ésta promoción.
RedKings reserva el derecho de no aceptar pagos de jugadores que hayan sido encontrados colaborando/jugando suave para generar manos.
Race prizes can be combined with possible bonuses, cashback and other promotions.
En caso de conflicto o discrepancia entre la versión en el idioma Inlgés de éstos términos y condiciones y todos los demás idiomas traducidos, la versión en Inglés será la válida.
Términos y Condiciones Estándar de RedKings son aplicadas.
To claim your prize, send an email to play@redkings.com after the chase has ended in May. All prizes must be claimed within 7 days from the end of the race. After this all unclaimed prizes are lost.