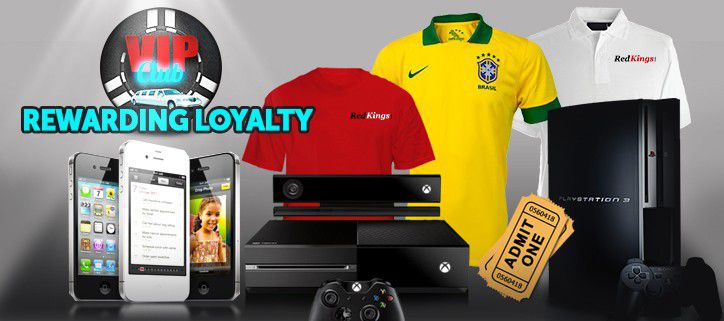 The RedKings VIP Shop Chase
Its time to play poker for the Summer VIP Shop Giveaway!
ALL PRIZES ARE ON TOP OF RACES, BONUSES, CASHBACK AND OTHER PROMOTIONS
Earn player points during May - collect the requirement and get the prize!
| | | |
| --- | --- | --- |
| 58500 Spiller point | | Xbox One Game console |
| 36000 Spiller point | | Apple iPhone 4 8GB |
| 27000 Spiller point | | Sony Playstation 3 12 GB |
| 19000 Spiller point | | €212 Online Final tournament ticket |
| 11500 Spiller point | | Football Shirt |
| 5400 Spiller point | | RedKings Polo Shirt |
| 2700 Spiller point | | RedKings T-Shirt |
REDKINGS CLEARANCE LEADERBOARD
VILKÅR OG BETINGELSER
RedKings Warehouse Clearance Poker Chase is between 1 – 31 May 2014.
One day is 01.00.00 GMT 00.59.59 GMT
All Prizes are suggest to availability and if possible to deliver to your country. If delivery is not possible or you choose to change your prize to cash we will pay 50% of its value.
RedKings forbeholder sig ret til at ændre de vilkår og betingelser til enhver tid for denne kampagne og enhver afgørelse truffet af RedKings er endelig.
En RedKings konto er personlig og må kun benyttes af den person, hvis detaljer matche disse registreret under kontoen. Manglende overholdelse af dette kan resultere i øjeblikkelig diskvalificering fra denne kampagne.
RedKings forbeholder sig ret til at afvise betaling til enhver spiller, som viser sig at være aftalt spil / soft playing for at generere hænder.
Race prizes can be combined with possible bonuses, cashback and other promotions.
I tilfælde af konflikt eller uoverensstemmelse mellem den engelske version af disse betingelser og de oversatte versioner på alle andre sprog, vil den engelske version være gældende.
Standard RedKings vilkår og betingelser gælder
To claim your prize, send an email to play@redkings.com after the chase has ended in May. All prizes must be claimed within 7 days from the end of the race. After this all unclaimed prizes are lost.