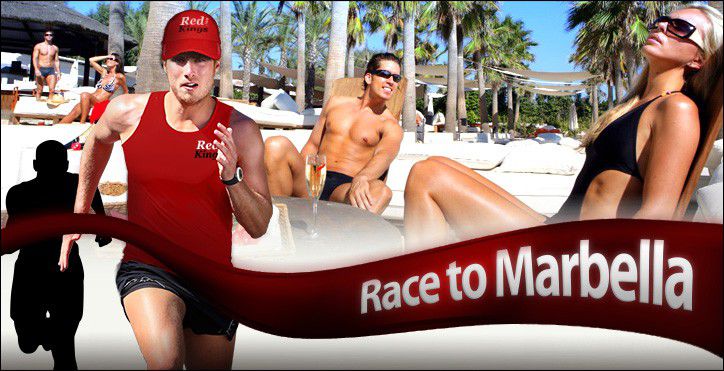 Race to Marbella
Win a €3,000 Package to the GrandLive Marbella as well as cash from the Races below
Just earn over 6000 RedKings player points between 15 February and 26 March 2014 and play in a Freeroll with one €3,000 package for every 10 players
What you get:
i)

Three €6000 races lasting for 14/ 15 / 16 days in February and March (first prize 900 per Race)

ii)

All VIP Cashback – up to 40%

iii)

Any Bonus you may be eligible for (includes first deposit bonus)

iv)

Entry to our February Daily Races based on your daily performance

v)

Entry to a Freeroll to win €3000 package to play live in Marbella with hotel and hospitality for 2 people
It's a great Deal!
Please note: For a Marbella Freeroll ticket you must play in one race or all and your total points between 15th February and 26th March add up to a min of 6000 RedKings player points
The Race to Marbella freeroll will be played Thursday 27th March at 19.30 CET
---Vilkår og betingelser---
RedKings Live tournament Terms & Conditions
Vilkår og betingelser
- The Campaign period is between 15.02.2014 and 26.03.2014
- The Marbella package to be won is worth €3000. It comprises of one buy-in (€1500) plus Hotel and Hospitality for 2 people sharing (€1000) plus €500 towards travel.
- Maximum number of €3,000 packages we are giving away is three
En dag er fra 01:00:00 - 00:59:59 GMT
This means that the first day you can enter the challenge is the 15.02.2014 and the last date to enter the challenge is 26.03.2014
Samarbejde og konto deling er helt forbudt og kan føre til lukning af konti samt konfiskation af eventuelle midler på kontoen.
En RedKings konto er personlig og må kun benyttes af den person, hvis detaljer matche disse registreret under kontoen. Manglende overholdelse af dette kan resultere i øjeblikkelig diskvalificering fra denne kampagne.
RedKings forbeholder sig ret til at afvise betaling til enhver spiller, som viser sig at være aftalt spil / soft playing for at generere hænder.
Ræs præmier kan kombineres med mulige bonusser, valueback og andre kampagner.
I tilfælde af konflikt eller uoverensstemmelse mellem den engelske version af disse betingelser og de oversatte versioner på alle andre sprog, vil den engelske version være gældende.
Standard RedKings vilkår og betingelser gælder.
Du kan nu få dine Ræs gevinster ved at logge ind på Min Konto og gå til Konto Oversigt. Alt du skal gøre, er at klikke på Kræv Gevinst knappen og dine gevinster vil automatisk blive sat ind på din konto. Alle gevinster skal kræves indenfor 7 dage fra den dato hvor gevinsten er givet. Efter de 7 dage vil alle gevinster der ikke er krævet gået tabt.
RedKings forbeholder sig retten til at registrere bestemte spillere til denne kampagne, baseret på deres tidligere aktiviteter.